Antigone
HB ALERT OCT 2016
HEART BEAT ALERTS
NEWS ► Out of this world! That certainly describes the performance of Marco Shuttle!
And we still have
flashbacks and these are very nice….for the visual flashbacks, click
NEWS ► Tonight our first
collab with Institut Français will result in a massive show with
Concrete Paris resident
and personifcation of the French Techno scene, Antigone.
We could not have dreamed
for more. While he embodies the genre's sensibilities while
also sounding distinct from
the hordes of phoned-in techno tracks that swamp the market.
Antigone balances emotive
atmospheres with an imposing sense of space, verges on a
big-room sound. Regardless of
how he's described, Antigone is deep in the habit of
producing sure-shot weapons with
undeniable momentum and weight. For all confirmed
NEWS ► Heart Beat working hard to add new events to the calendar.
11 November
Till von Sein
will bring his energetic selection to Saigon.
Goethe Institut will be our partner
in techno.
Full event info here!!
16 December Amelie Lens is on the bill. She recently was added to the bill
of Awakenings New Years Eve 2016 and previously released her EP on 2ndstate of Pan Pot.
NEWS ► 18 NOVEMBER Harbour & Piu Piu team up to co-host part of the Belgium
week in cooperation with the Embassy of Belgium in Vietnam and their sponsors.
Together you will be presented Belgium deephouse veteran ATTAR! supported
by Harbour head-honcho BAX. The Fridge will be stocked up with techno by
Heart Beat featuring "Chris Wolter invites Oko to the fridge" More info soon!!
Institut Français x Heart Beat Present Antigone
FRIDAY 07 OCTOBER – doors 9PM to late
THE OBSERVATORY @ 5 Nguyen Tat Thanh D.4
PRESENTING CONCRETE PARIS RESIDENT – TECHNO INNOVATOR PUR SANG
▬▬▬R▬▬▬U▬▬▬▬N▬▬▬▬N▬▬I▬▬N▬▬▬G▬▬▬▬▬▬▬▬O▬▬▬▬R▬▬▬D▬▬▬▬E▬▬▬▬R▬▬▬▬
:::::::::ANTIGONE▲ CONSTRUCT RE-FORM [FRA] ==
►
~12:00-04:00 (or later…..)
::::::::::OKO

▲ RTS.FM =====
►
warming up for Antigone
::::::::::: Chris Wolter ▲ Heart Beat =====
►
closing after Antigone
::::::::::::::VIS
UALS by EROL ▲ Heart Beat ==============
►
all night
Entrance Free until 10PM – After 150k VND –
EXTRACT INTERVIEW 'ANTIGONE' with 'WE ARE PULSE'
Several music genres have been breaking boundaries, and that includes the
French techno scene.
There is no elaborate way to describe their scene, except
that it is simply dark, twisted, raw, and
innovative all in one. "There is actually
no specific French techno sound, and this is what I really like
about it," says
French techno DJ, and producer, Antonin Jeanson aka Antigone.
"Every artist has their own personal style when it comes to techno. For instance,
when you listen to
Spanish techno you can tell that it is the Spanish sound,"
he continues. Antigone has been playing his
part right in this current techno
revolution. He believes the diversity of styles within this genre could be
attributed to many factors. One of it is the fact that France is situated in
between Spain, and Germany.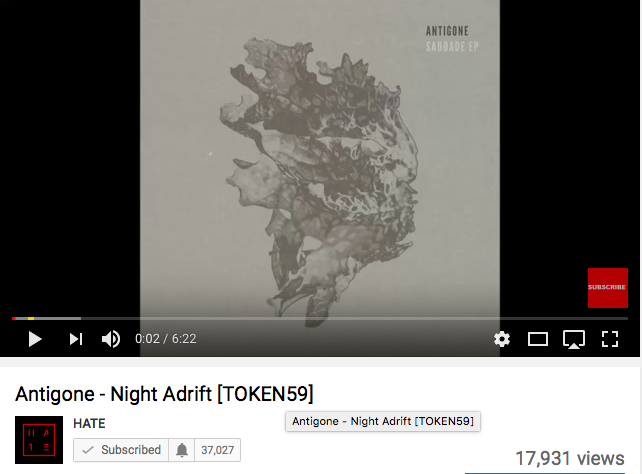 "I think in the case of France, we've been drawing influences from left, and right.
Basically, we've been
soaking up the different sounds from various European
countries. We are like a melting pot of techno music,"
he says. Antigone's unique
style has garnered him the respect he deserves from his first release, Forbidden
Works, published by Construct Re-Form in 2011 to this year's Saudade EP
released on Token Records.
The young Parisian has indeed come a long way
since his childhood days of collecting vinyl records.
He had his first taste of electronic music in 1998 when he was 8-years old.
Back then, he just moved back
to Paris after spending a few years in America.
His godmother, Samira Arbia took him on the truck she was
spinning at during
the first Techno Parade, and that experience opened his eyes to how such
music could
bring people together.
She was also the one responsible for passing
him his first vinyl record, which was an
orange 10-inch copy of Sonic Tourism's
Arti Dust. And just like many other techno artists, Antigone lists
Laurent Garnier
as one of his musical influence, but, if he had to choose one influential individual
who inspired
him to be part of the scene, Luke Slater aka Planetary Assault Systems
would be it.
"I've always been inspired by his music. He's one of those artists that
constantly innovates his sounds and
he never stops pushing boundaries. And that's
what I like in his music," he explains. As an artist, Antigone
also lives up to that notion
of innovating sounds while pushing the boundaries of music. As a DJ, his well-crafted
sets is what draws his crowd into a frenzy.
While Antigone continues to circle the globe with his amazingly curated sets, he can
breathe a sigh of relief
knowing that he has completed all the production work for 2016.
There's an EP for Token that's due out in
December, a remix for Pris released under Resin,
and another remix that will be released under Slam.
Although a great vacation would be a
great way to end the year, Antigone's personal goal before the year
ends is to finally come
up with a concept for his album. "I'm supposed to work on it but I still haven't figured
out what I actually want to showcase. I hope I'll find some ideas before I start working on it."
(interview with We are Pulse 29-9-2016 link)
Collab EP of Antigone with other Concrete resident Francois X

07-10-2016 | Institut Français x

Heart Beat

Present Antigone (CRF) CONFIRMED
11-11-2016 | Goethe + Heart Beat Present Till Von Sein (Suol) – CONFIRMED
16-12-2016 | 4 YEARS Heart Beat w./ Amelie Lens & Sam Farrago (99% CONFIRMED)
20-01-2017 | Heart Beat Presents Par Grindvik – CONFIRMED
10-03-2017 | Heart Beat Presents Marc Romboy (LOCKED IN)