HB Alert
Heart Beat Alert November 2016 – Till Von Sein & Belgium Week
HEART BEAT ALERTS
NEWS ► Insane night with Antigone, hard to beat that one maybe best so far and a
good first colab with Institut Francais looks promsing for 2017 French techno in Saigon 
….for the visual flashbacks, click
here for the pics. 
NEWS ► Tonight our 3rd collab with Goethe Institut will be more house than techno:  TILL VON SEIN.
When you extrapolate from SchleppGeist, to Jan Oberlaender, the next coordinate in the graph
could end up at 'Till Von Sein'. Till is like nitro-glycerine behind the decks, a ball of energy
that sucks you in like a white dwarf into a black hole so no other choice but to dance
and and grin from ear to ear. Expect Till's version of pure & deep House & Techno sounds
drenched in a sauce of Dub & Acid causing extremely dirty bass lines and ravey chords,
of which only Till knows its recipe. 
For all confirmed events please check below.
NEWS ► Heart Beat working hard to add new events to the calendar: 
16 December
▲

Belgium pride

 
Amelie Lens celebrating 4 years Heart Beat! More info here
20 January ▲ Pär Grindvik from Sweden. Serious chance we might blow the roof off. 
NEWS ► 18 NOVEMBER Harbour & Piu Piu team up to co-host part of the Belgium
week 2016 in cooperation with the Embassy of Belgium in Vietnam and their sponsors. 
Together you will be presented Belgium's deephouse veteran ATTAR! supported
by Harbour head-honcho B.A.X. The Fridge will be stocked up with techno by 
Heart Beat featuring "Chris Wolter inviting Oko" More info here!
Goethe Institut x Heart Beat Present Till Von Sein

FRIDAY 11 NOVEMBER – doors 9PM to late
THE OBSERVATORY @ 5 Nguyen Tat Thanh D.4 
PRESENTING HOUSE REBEL & OWNER OF  "TILLY JAM JOINT" SONIC EXPERIENCE
▬▬▬R▬▬U▬▬N▬▬N▬▬I▬▬N▬▬▬G▬▬▬▬▬▬O▬▬▬R▬▬▬D▬▬▬E▬▬▬R▬▬▬▬
:::::::::TILL VON SEIN▲ SUOL [GER]  == 
►
~12:00-03:00 (or later…..) 
::::::::::OUCH! 

▲                                  =====
►
warming up for Till
::::::::::: Chris Wolter ▲ Heart Beat        =====  
►
closing after Till
::::::::::::::VIS
UALS by EROL ▲ Heart Beat  ====== 
►
all night 
Entrance Free until 10PM – After 150k VND –
'Be Belgium' Week Vietnam 2016 Feat. DJ ATTAR! 

FRIDAY 18 NOVEMBER – doors 9PM to late
PIU PIU @ 97 HAI BA TRUNG D.1 
PRESENTING BELGIUM HOUSE LEGEND ATTAR! SUPPORTED BY BAX
3 FLOORS PACKED WITH ELECTRONIC GOOD DANCE MUSIC  
**1st floor** 9PM to Close 
** Fridge (2nd floor) ** 10PM to Close 
**Roof Top ** 10PM to Close 
Doors 9pm – Entrance 100k VND = Incl 1 Heverlee Beer! 
EXTRACT INTERVIEW 'TILL VON SEIN'
Traxsource caught up with him to discuss his new 'Blacker Than Ever' EP on Suol..

Clique is an agency with some of the best names in the game! Tell us a bit about Clique
Bookings and what you get up to day-to-day.
Clique was founded by my really good friend Claudia M and when I joined her, I also moved to
Berlin. I work with different artists by helping them schedule their shows and building their career.
Most of them have become close friends and I'm super proud of what they and we as an agency
have achieved in the past years. These days I only work with seven artists and it fits perfect into
my touring and producing schedule. It still keeps me busy everyday but it wont stress me out like 
it did 2-3 yrs ago when I still had way more on my plate on day to day biz.
Juggling Clique and being an artist can't be easy.. What do you do to relax in your downtime?
Do you get any downtime?
Yes, as mentioned above I stopped repping a bunch of artist I started with and reduced my
work load to an amount I could still handle. I need my "beach time outs" from time to time
where I spend a week or so just relaxing and turn off my phone for at least 3hrs a day. 😉
I also always take January off to go on a real holiday. This year being the first in 3 (or so) that
I am spending more time in Berlin than traveling and I'm enjoying it. Go to the gym, have dinner
with my friends, etc. try to live that life most 39 years old out there live. 😉
Tell us a bit about the EP, what were your influences for this one?
What have you been listening to recently?
The 'U N U' track I started last summer being in NYC for a week and it was inspired by
that typical summertime in NYC vibe; positive energy, music everywhere, that feelgood
vibes sh*t. 'Itiswhatitis' started in November in Berlin, which couldn't be further away
from said vibes. Dark, short days and a lot of negativity surrounding you. It's def inspired
by early Mathew Jonson, as I was going through a phase & I started digging for his old music
again. The 3rd one I did when my dad died earlier this year. Hard for me to describe that vibe.
My friends say its a typical Tilly Jam Joint… well, I guess that's the way I deal with those moments
in life, just sit down and let my emotions flow.
I listen to a lot of RnB and Modern Funk. I had the new King album on repeat for a while, Dam Funk
LP and DJ Kicks of course but also Chance the Rapper and Kaytranada. Always some good old
G Funk of course, West Coast Rap etc. I spend so much time finding new music and still buy
albums, so I can listen to them on long travels but I also need my time for classics like
Sade and Gil or Marvin.
Which label's releases are you following right now?
Any new labels popping up that are of interest to you?
Definitely Heist and Keinemusik. The quality they release is just consistent. I like Razor-N-Tape 
when it comes to good times party tunes, always need to check on what Jimpster releases on 
Delusions of Grandeur and Freerange, get some afro heat on Mo Black and when it comes to
those peak moments I love me some Cajualor Turbo. 
What up-and-coming producers are you most excited about, who have you got your eye on?
I just discovered Scott Diaz, totally dig his style. S3A is a name I see more and more often in my
recordbox lists. And Carlo and the whole Neovinyl, Clique got me grooving good right now…
What exciting gigs have you got coming up?
I play a few festivals in Germany this summer which I'm really looking forward to.
Then I'll be in Romania for the first time which I'm really excited about, as I hear only
good things from people who have been, and a B2B tour with my girl Meggy which will
be fun for sure before a 4 weeks US tour in September, so the rest of the year will be busy.
Do you prefer being part of an epic festival lineup or being on the bill at an intimate club party?
I'm a club kid and always will be. I like those sweaty intense moments you can have in a club
when you see the dancer in front of you. I like to see the people I play for. Don't get me wrong,
its also fun to play in front of 3K outside in the sun, but it wont ever get as magical and wicked
as in a nightclub. 
Favourite place to play in the world?
Never had a bad gig in Mexico. It's one of my favourite places for sure. I love how most cities
I usually play in the US know how to get down and the crowds are always open for everything.
The few shows I played in Johannesburg/South Africa were really special. The crowd loves it
deeeep like nowhere else.
Tell us a bit about the Berlin scene at the moment.
For somebody like me who is traveling so much its really hard to keep up. There is always a
new club, new bar or venues opening somewhere. So many places I've never even been to
and I always wonder what is going on there. It doesn't really feel like its slowing down.
Sometimes I miss some young blood, a new label, a new crew etc. Those who run Berlin
are the same big players now for 5 years or even longer. I try to play more shows in Berlin
right now to keep up with it here cause to me it still feels like it's the place where it's really
happening.
(interview with Traxsource 22-7-2016 link)
Collab of  Till with his muse Meggy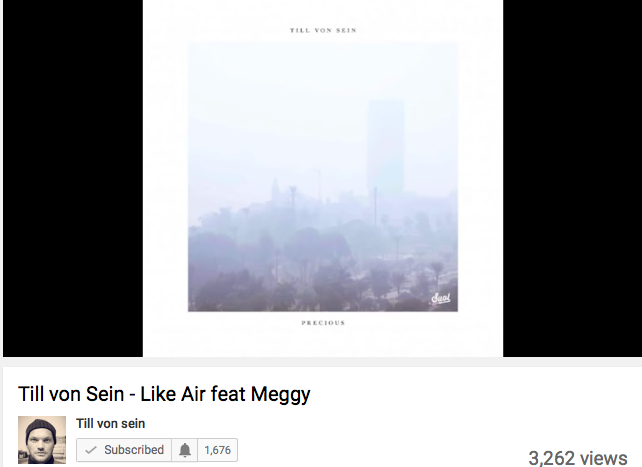 1

1-11-2016 |  Goethe + Heart Beat Present Till Von Sein (Suol) – CONFIRMED 
16-12-2016 | 4 YEARS Heart Beat Feat.  Amelie Lens (Second State) – (CONFIRMED) 
20-01-2017 | Heart Beat Presents Par Grindvik (Stockholm Ltd) – CONFIRMED 
10-03-2017 |  Heart Beat Presents Marc Romboy (Systematic) – (LOCKED IN)
12-05-2017 |  Heart Beat Presents Andre Kronert (Odd Even, Figure) (LOCKED IN)