Alex Bau
HB Alert – ALEX BAU The Bavarian Techno Machine
HEART BEAT ALERTS
NEWS ► This June is time for the 4th collaboration with our friends of Goethe Institut
in HCMC. This one came as a gift from Techno heaven. The Bavarian Techno Machine,
known for his releases on Cocoon, his unwavered signature sound as well as a long time
star at the techno firmament in Germany. This night booth will appear like the cockpit
of a spaceship with a spectacular live performance from Mr. Alex Bau.
Credo, Bau's imprint, is celebrating 10 years and we are expecting an epic set
with loads of new material and great support by Javier Marimon, joining
Heart Beat for the first time
► Read more below!
NEWS ►This July is time for James Shaw. When you say "Shifted", you have to say
"SIGHA"! So we are excited to announce, it is finally time for us to say "Sigha" in Saigon!
James Shaw will headline the 27th installment of Heart Beat and everything just falls
into place after Shifted, Henning Baer, Antigone and the likes.
Our July instalment will be supported by 1DAN and of course founding father Chris Wolter.
Visuals provided by Swedish Vietnamese Erol to top it all up.
NEWS ►23 + 24 November in cooperation with Insutute Français HCMC and
European Music Festival; Voiski will have a back to back performance in HCMC.
On Nov 23rd a live show at the Conservatory of HCMC and on Nov. 24th he will
lay down a magnifcient DJ set @ the Observatory.  Something very unique!
So block your schedules in the evening of this 3rd week of November!
FRIDAY 23 JUNE 
▲
 DOORS 9PM TO LATE
THE OBSERVATORY
▲
 5 NGUYEN TAT THANH
▲
 D.4 
INTERVIEW  'ALEX BAU' by  TECHNO.VN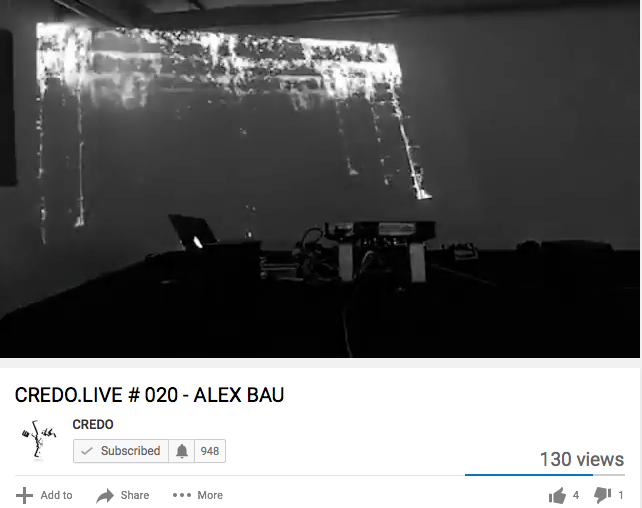 Alex Bau also known as "The Bavarian Techno Machine" brings firepower and versatility to his productions
and DJ sets that has seen his electrified tracks appear on labels such as Sven Väth's Cocoon,
Chris Liebing's CLR, The Advent's Kombination Research, Hans Bouffmyhre's Sleaze and his
very own Credo imprint amongst others. His live recording show his unwavering style that
includes elements of hypnotic tension, energetic acid and driving rhythms
when did your"love Affair" with electronic Music begin? when you got consumed by the techno scene?
On my first contact to techno I actually hated it, that must have been new years eve 1991 I think, but I soon
realized that I simply ended up on the wrong party. The next technoparties I visited were just great, I felt that
there is something new coming up. And when I was at my first party with Sven Väth in Munich in 1992 I
was catched. That was an ignition.
What was one of your best gigs of the past 12 months
Puhh… I´m lucky enough to be able to tell that this is really hard to answer and also unfair to pick only one because there were so many gigs with an amazing vibe. But ok, if I have to pick one let`s say the CREDO.TEN showcase at Under Club in Buenos Aires where I played a 10 hours set. The club actually opened extra early at 21:00 so that I was able to do this 10 hours set, and the vibe, the energy throughout the complete night was not from this planet. It was so emotional when I played the last track at 7:00 am in the morning. Incredible!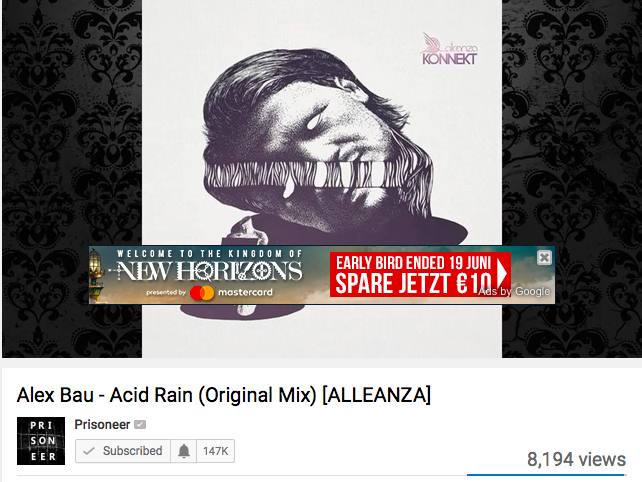 Is this the time and also your first gig in Vietnam
Yes, it is. And I am super excited about it! True words.
What is your expectation with your visit to Vietnam and is there something you would like to see, eat or try when you are here
Hm, I have to admit that I have no real imagination of the country. I just know about the major cities of course and some friends have been there for holidays and it must have been really beautiful. And they said Saigon is a super busy and hectic city. Let`s see.
According to Alex Bau what is there that you find (only) in electronic music, specifically Techno, that you think you can't find in other genres of music
It´s the idea of infiltrating minds with a subtile, even subversive approach. On a superficial view it sounds all the same, but once you get into the vibe and rythm it`s almost transcendental.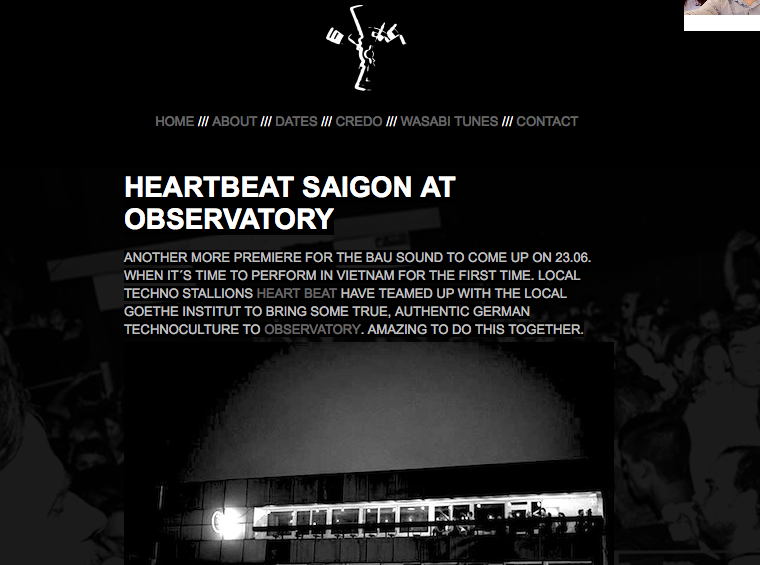 Did you hear from befriended artist what it is like playing in Vietnam, with Heart Beat, at the Observatory
No, I´m coming over totally free of any idea what to expect. And that`s what I like. I can see on the internet that Heart Beat obviously understands the idea of techno and also my approach to it perfectly and The Observatory seems to do interesting bookings.


Congrats on your 10 year anniversary in 2017 of your own label Credo. What artist (s) would you like to see release on Credo the coming 10 Years
There is no kind of "wishlist" for the label because I always put the music itself in focus. If I receive a demo from a totally new, unknown artist and it`s great, I will release it. Just like I did with many before. At the same time, if an established artist sends me a demo and the name is big and would carry huge attention to the label, but the music is just "so so", I wouldn`t do it. The only thing which is important to me in terms of artist relation is loyalty. And honestly, there are a lot of just selfish and opportunistic artists out there. They smile at you and once you turn they stab you in the back if they see any profit / progress out of it. To use the words of Metallica: sad but true!

One of your last productions is on Hans Bouffmyhre's 2-part Insurgency EP on his Sleaze label. Also featuring versions by Pfirter, Keith Carnal. Now We were wondering can we see a new album by Alex Bau After the Musick in April 2015 coming up? When and where would this see the light of day
Oh, this remix is already kind of "old". My last album "MUSICK" was released in 2015, then I did some EP`s on CREDO and Cocoon as you might know too plus some remixes and collaborations. Maybe there will be a new album next year. I already work on some ideas, but it`s too early to say anything about dates. Unfortunately the time on ths studio is limited due to a lot of office work to do for the label.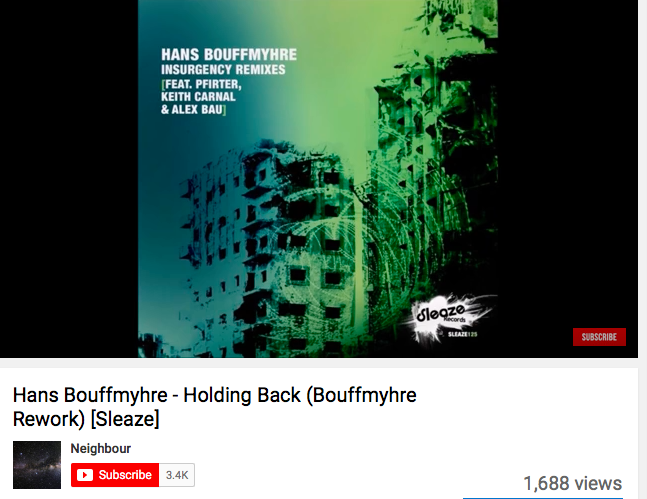 What is one of your favourite all time productions and what is one of your favourite productions you are now listening to frequently
Hm… there are some artists I really admire and adore. Like Martin L. Gore or also Hans Zimmer. But there is a lot of good music out in the cosmos, hard to pick "the one" that beats all. An all time fav album of mine is "Songs from the big chair" by Tears for Fears back from the 80ies. A decade I generally really love for its transition towards electronic sound. I also like nice ambient productions for listening to on tour while travelling for example. 
In terms of techno I currently play a lot from Tensal or Architectural. But again, these are just two out of countless good producers out there
(excerpt of interview by Techno.vn , 19 June 2017
. Full interview here  )
23-06-2017 |  Goethe Inst. + Heart Beat Feat. ALEX BAU
 @ OBS
21-07-2017 |  Heart Beat Presents  SIGHA @ OBS 
24-11-2017 |  Inst. Francais + Heart Beat Feat.  VOISKI @ OBS